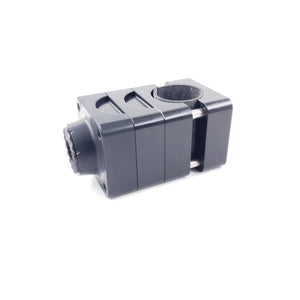 PART NUMBER:   TMA-AT-010 (MOUNT ONLY, I HAVE ALL MY HARDWARE. SEE RED NOTE BELOW)
PART NUMBER:  TMA-AT-0010B (MOUNT AND TRANSDUCER BOLT)
CONTENTS:        
AT transducer side clamp half
Back side clamp half
4 each  stainless socket head cap screws
2 FO-LINK OFFSET ADAPTERS 
NOTE:  MOUNT ONLY OPTION - Use with your original rubber and steel washers along with the shoulder bolt that came with your Active Target purchase to attach the transducer to your clamp.  Replacement transducer assembly bolts can be purchased HERE
  DESCRIPTION: 
For use with running your transducer on the trolling motor shaft.  Only supports forward and downward viewing modes
Recommended install height not to exceed 2" above the motor foot.
The zero degree/straight clamps that we offer corrects the transducer geometry problem associated with the 8 degree clamp that came with the Active target kit,  allowing you to have your sonar image, GPS position and transducer targets lined up.  This improves the accuracy of your readings in vertical and forward/downward mode, making it simple and intuitive to get on the fish you are seeing as well as locate your lure or bait on the sonar screen.
1-1/8"-1-3/8 clamping

Fully CNC machined from solid  bar stock
For use on trolling motor shafts

Proudly made in the U.S.A by Fish Obsessed machinists

Visit our blog for more information as well as links to YOUTUBE videos that you will find informative!